Chairman's Main Policy Statement 
The Philippines continues to be the main source of officers & seafarers who work on board merchant marine vessels worldwide. As such, we who are in the frontline of maritime manpower employment and development should prove ourselves equal to the expectations of Filipino, as well as foreign shipowners and principals that have entrusted to us the manning of their vessels. We must be ready and able to hurdle significant challenges that presently confront us, primary of which are the following:
finding a lasting solution to the prevailing shortage of senior deck and engine officers;
improving the competency of Filipino seafarers to meet the requirements of the STCW Manila Amendments
ensuring the compliance of the Philippines to the ILO Maritime Labour Convention of 2006, which the Philippines will ratify soon.
ensuring the compliance of the Philippines to the ILO Convention 185 which the Philippine Government ratified last October 11, 2011, and
ensuring that Filipino seafarers working onboard ocean going vessels will be accorded with safe, secured and decent working environment at all times.
As the new Chairman of the Joint Manning Group, I would like to assure all the industry stakeholders that the accomplishments of my predecessors shall be built upon and furthered. The JMG shall continue to work closely and zealously with different Government entities, with our Principals, with the seafarers group and with other parties in the manning industry.
The task at hand cannot be carried out by a single person. Therefore, I am counting on the unwavering support and understanding of my colleagues in the industry in order to achieve our common goal.
CAPT. OSCAR D. ORBETA
Chairman (2018-2019), Joint Manning Group (JMG)
---
Opening Remarks

of
Capt. Emmanuel L. Regio
Chairman of Joint Manning Group
At JMG Mobile Apps Soft Launching
[Delivered at SM City Manila on October 21, 2014,]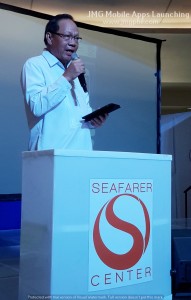 A momentous morning to all.
As I was on my way here, I kept glancing at my mobile phone and tablet. Not too long ago, these things were considered luxury items for an ordinary Filipino—something only that the "privileged" few is allowed to have. Privileged in the sense that technology then is restricted to those who not only have the resources to acquire them but also the requisite skills and aptitude to use it.
Nowadays, we see Filipinos at a young age immersed in technology. Children of tender age are now able to make use of laptops, smartphones, and tablets while downloading information from the world-wide web. Imagine what they would be able to do in the next few years.
The fascination with the information technology revolution has truly captured the fancy of the world, especially in the Philippines—hailed as the "texting capital of the world".
The use of these devices and soft technology became even more diverse and enjoyable with the advent of mobile applications or mobile apps, which can be downloaded into one's smartphone thereby enhancing the gadget's ability and flexibility in providing its user's needs and requirements.
Indeed, we now have mobile apps for almost anything—from business apps, to lifestyle and health apps to apps that even foretell one's fortune. However, technology will only go as far as the people who use and develop them will allow. According to the recently-deceased Apple and technology guru Steve Jobs, "technology is nothing. What's important is that you have a faith in people, that they're basically good and smart, and if you give them tools, they'll do wonderful things with them."
I find a scent of truth in those words.
Today, we bear witness to the JMG's initiation into the technology revolution with the launch of our new Mobile Apps which were designed to aid in serving our Filipino seafarers, their families and various stakeholders in the industry. It is expected that these mobile applications would make life easier and better for our seamen.
But the work should not be placed on technology alone. The burden is as much as on the people who run and operate the technology. Take note that these apps are mere tools and not the answer to one's prayers or problems. It will assist them in acquiring what they need through their devices but not do everything for them.
'Ika nga nila, "Nasa Diyos ang awa, nasa technology ang unawa, pero NASA TAO PA DIN ANG GAWA."
In these mobile apps, we can see that our TOMORROW has arrived TODAY but the lessons of YESTERDAY should always be PRESENT to guide us in all our endeavors.
Finally, allow me to end again with another of Job's quotes:
"I think if you do something and it turns out pretty good, then you should go do something else wonderful, not dwell on it for too long. Just figure out what's next."
A good day to all. Thank you.
-end-
---
Message
of
Capt. Emmanuel L. Regio
Chairman of Joint Manning Group
At the 1st Year Anniversary
Of Entry Into Force
of the Maritime Labour Convention, 2006
[Delivered at Intramuros, Manila on August 20, 2014,]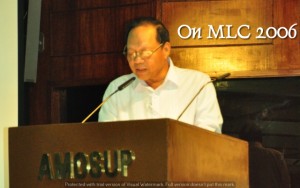 A good morning to all.
A famous man once said the following words:
"All of us have in our veins the exact same percentage of salt in our blood that exists in the ocean, and, therefore, we have salt in our blood, in our sweat, in our tears. We are tied to the ocean. And when we go back to the sea whether it is to sail or to watch it we are going back from whence we came."
Those words were spoken by the late John F. Kennedy in his Newport dinner speech before America's Cup Races in September of 1962. Even then, JFK knew that we are all part of the same ocean—of the same maritime industry.
The provision of the 2006 Maritime Labour Convention embodies such a principle of which we now celebrate the entry into force of a humanized rules in the conduct of our maritime affairs. No less than the Preamble of the MLC of 2006, which contains the all-encompassing ideals and principles of this landmark statute affirms such a commitment.
In its Preamble, the MLC of 2006 aims to create a single, coherent instrument embodying as far as possible all up-to-date standards of existing international maritime labour Conventions and Recommendations. In addition, it puts into conscious awareness of the industry the core mandate of the Organization, which is to promote decent conditions of work, ensuring that seafarers are covered by the provisions of other ILO instruments and have other rights which are established as fundamental rights and freedoms applicable to all persons, and given the global nature of the shipping industry, seafarers need special protection.
Furthermore, the provisions also take into mind of the international standards on ship safety, human security and quality ship management and sets out a general legal framework within which all activities in the oceans and seas must be carried out and is of strategic importance as the basis for national, regional and global action and cooperation in the marine sector, and that its integrity needs to be maintained.
Thus, the MLC of 2006 was intended to secure the widest possible acceptability among governments, ship owners and seafarers committed to the principles of decent work, that it should be readily updateable and that it should lend itself to effective implementation and enforcement.
In June of this year, the International Labour Organization has given its overwhelming support to new international law to protect abandoned seafarers and provide financial security for death or long-term disability of seafarers which were encased in the 2014 amendments to the MLC of 2006. The approval of these amendments was a major step in establishing binding international law on these issues which are very important for the shipping industry.
These international legal measures are aimed at improving working and living conditions for seafarers, the most globalized of the world's workers.
Quoting the statement of ILO Director-General Guy Ryder, "The MLC, 2006 really is a milestone for the maritime sector, aside from the first time ever requiring the certification of seafarers' working and living conditions, it brought with it another innovation – the possibility for more rapid changes to the Convention to meet the needs of the industry. It is truly a living Convention. It is designed to grow and change and respond to the needs of workers and employers."
As of March 2014, the ILO's Abandonment of Seafarers Database listed 159 abandoned merchant ships, some dating back to 2006 with abandonment cases still unresolved. Many abandoned seafarers are working and living onboard ships without pay, often for several months, and lack food and water supplies, medical care or means to return home.
The amendments establish mandatory requirements that ship owners have financial security to cover abandonment of seafarers, as well as death or long-term disability of seafarers due to occupational injury and hazard.
When they enter into force, certificates or other documents will need to be carried on board ships to establish that financial security is in place to protect the seafarers working on board the ship. Failure to provide this protection may mean that a ship can be detained in a port.
The new requirements guarantee that seafarers are not abandoned, alone and legally adrift for months on end, without pay, adequate food and water and away home. They also clearly define the role of flag States that register ships in ensuring that adequate security exists to mitigate against the financial, legal and human cost of abandonment, and death and long–term disability due to occupational hazards.
The ILO's MLC, 2006 came into force on 20 August 2013. To date, 61 ILO Member States representing more than 80 percent of the world's global shipping tonnage have ratified the Convention.
Today, as we celebrate the first year anniversary of the effectivity of the provisions of the MLC of 2006, ship owners can now experience a more level playing field to help ensure fair competition and to marginalize substandard operations. We can now hope for a more socially responsible shipping industry and dream of a better protected and more efficient workforce.
With one year already in the books, we can expect more positive changes in the months ahead, not only for our seafarers, but also for ship owners as well.
We, at the Joint Manning Group, has always recognized this synergetic inter-dependence between officers and crew and ship owners—that it is difficult to imagine one existing effectively without the other and that the welfare and interests of the ship owners will considerably depend upon the welfare and interest of its seafarers.
The Group also recognize the important role of the government in facilitating the achievement of the goals of the MLC of 2006 and that it will be difficult for the industry to achieve the full realization of the noble goals and mandate of the MLC of 2006 without the involvement of the public authorities. To this end, we defer to their wisdom and cooperation.
Just a year after, we just have taken the initial steps in creating the ideal working environment for both the domestic and global maritime industry. Like a ship venturing into open waters, it will encounter its shares of storms and rough waves before reaching its intended destination. And it becomes incumbent upon the various stakeholders like us to guide it to safer shores.
A good morning to all.
---